MOLDOVAN CEC PREPARING TO INTRODUCE ADVANCED ELECTORAL INFORMATIONAL TECHNIQUES
15.01.2008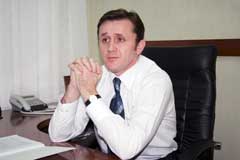 Central Election Commission Chairman Iurie Ciocan's interview with Infotag correspondent Igor Volnitchi.

Q: Mr. Ciocan, it has been on everyone's lips here that Moldova is allegedly going to introduce new electoral informational techniques, but no practical steps have been seen yet. Could you comment the situation please?

A: Perhaps, the measures undertaken lately are not so visible and are not very well known to the public, but I assure you work in under way. The Central Election Commission has approved the concept of a state automated information system "Alegeri" [Elections]. The draft concept has been sent to parliament for consideration. As soon as the forum approves the document, we will embark on its realization straightaway.

Q: What does the concept envisage?

A: Its most important element is the anticipated introduction of an electronic voter register in Moldova. It will be elaborated on the basis of the State Population Register to include all citizens aged 18 and older eligible to vote or be elected. The register shall not include only mentally handicapped persons and convicts.

Q: What is the electronic register needed for?

A: Let me first explain how it will work. Suppose, citizen X comes to a polling station to exercise his electoral right. His personal 13-digit code is entered into the computer, which makes a mark opposite his name showing that this gentleman has already voted. These data will be transmitted on-line to the CEC, so we will be constantly aware of the voting progress and of who concretely has already cast his or her ballot. This will enable us to draw up voting results quicker, to make the electoral process more transparent, to exclude multiple voting, to strictly follow the number of voters, and to update voter rolls systematically.

There is a provision in the electoral legislation compelling local public administrations to annually verify voter lists by visiting every citizen's home. So, the electronic register will be updated on the basis of such regular verifications.

Q: This will require means, equipment, personnel, won't it?

A: Sure. But a part of necessary equipment is already available. Most polling stations are accommodated in premises having computers, so they only need to be linked to the CEC network on the election day.

Q: When will you begin using the electronic register practically?

A: According to the concept – at the 2009 ordinary parliamentary elections.

Q: What else does the concept envisage?

A: The most important provision pertains to electronic voting that is going to be tried at the 2013 parliamentary elections. This means that citizens will be offered to vote by means of the Internet if they wish – i.e. without visiting polling stations. For this, they will need to enter the CEC's website, enter a special code (electronic signature), receive an electronic ballot-paper, and fill it in. Moldova has already adopted a law on electronic signature, so now we should begin using it in practical life.

Q: Are you going to introduce other electoral novelties such as an electronic pen, or anything else?

A: We tested electronic pens at 3 polling stations during the 2005 elections. But presently we are targeting at techniques much more advanced than electronic pens.

Q: Have you already tested electronic voting or electronic register?

A: We have not tried electronic voting yet, but at the 2007 local elections were tested an electronic register at 3 polling stations. And though we were apprehensive that the novelty might cause overcrowding, a mess in the stations or something else, everything went off smoothly. The test results were good, and this is inspiring hope for a positive outcome of the register introduction in the republic as a whole.

Q: How much will the concept implementation cost?

A: I guess, minimum 30 million lei. We would like to have this important bill through parliament as soon as only possible, so that we could begin purchasing necessary office equipment and carrying out other related works. To make the State Voters Register ready for using at the 2009 elections, we need to purchase everything necessary – both hardware, software and services – by the end of this year at the latest.

Q: Is the entire money going to come from the State Budget?

A: That's how this has been envisaged as of today. But we have been in quest for co-funding sources. Readiness to promote the concept implementation has been stated by the United Nations Development Program. We also hope for the assistance of other potential partners.