MASAHIKO KOMURA: JAPAN BACKS MOLDOVA ON ITS WAY TO DEMOCRACY AND MARKET ECONOMY
29.01.2008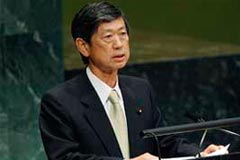 Interview given by the Minister of Foreign Affairs of Japan, H.E. Mr. Masahiko Komura, to Infotag special correspondent Anatol Golea.

Q: Your Excellency! The Moldovan Deputy Premier, Minister of Foreign Affairs and European Integration Andrei Stratan began his visit to Japan on Tuesday. The Republic of Moldova is laying considerable hope for this visit, considering it a historic-importance event. And what is the Government of Japan expecting from the visit?

A: I am very glad that starting from 1992, when Japan and the Republic of Moldova established diplomatic relations, the ties between our two countries have been steadily developing. The Moldovan foreign minister's visit to Japan is the first visit of such level since 1999, when the then Moldovan Minister of Foreign Affairs Nicolae Tabacaru visited Tokyo. I think the current visit is a greater step towards a wider development of relations between Japan and Moldova.

With Moldova – a country implementing reforms on its way to democracy and mare, Japan intends to develop a relationship of concrete cooperation in various fields. From this viewpoint, I am looking forward to meeting your Deputy Premier, Minister of Foreign Affairs and European Integration Andrei Stratan to hold a concrete and sincere exchange of opinions with him. I also hope the visit will serve to a deeper mutual understanding between the peoples of Japan and Moldova.

Q: Which topics are going to be discussed during the Moldovan minister's visit? Have the sides planned any concrete accords pertaining to cooperation enlargement?

A: During the visit by Mr. Stratan, we are going to exchange opinions on a broad spectrum of issues – bilateral relations including economic cooperation, promotion of trade and investment, tourism development, and international issues important to both sides, including reform of the United Nations Security Council, situation in Europe, and other.

I want such sincere and open exchange of opinions with Andrei Stratan to serve to a further broadening of cooperation relations between the two countries.

Q: I guess Moldova has been insufficiently well known in Japan, but hope the visit of Mr. Stratan should help repair this gap. Economic relations between our countries keep on developing. For instance, exports of Moldovan wines to Japan have started recently. How do you think, which sectors of the Moldovan economy may present interest to Japanese investors?

A: I hope Mr. Stratan's visit will help an increasing number of the Japanese people to learn more about Moldova so that the relations between our countries could develop rapidly.

I guess there exist many promising spheres for investment by Japanese companies. Therefore it is very important to let Japanese economic circles and corporation managers learn more about Moldova as an attractive place for investment. As a rule, prior to deciding about an investment, the Japanese people of business thoroughly study the area they are going to invest in. And once they have done this, they remain working there for a long time.

Investment in trade is primarily an issue for private businesses to handle. But the Government of Japan, in collaboration with the Government of Moldova, renders active assistance to support this direction. In particular, by means of a program called Official Assistance to Development, help is provided for transiting to a market economy as well as technical assistance to improve investment climate. Besides this, in February Tokyo will host a seminar on tourism development and a seminar on the development of small and medium businesses. The Japanese organizers have sent invitations to Moldovan governmental officials to attend, and we hope such kind of activity should promote the development of economic relations between Japan and Moldova.

Q: Moldova highly appreciates the assistance the Government of Japan has been providing for several years in the framework of the Japan's Grant Aid Project for the Increase of Food Production (2KR) in the Republic of Moldova. Will this Project be continued in the future? Is there a possibility of launching other projects like this?

A: Since 2000, Japan has furnished 6 tranches within the 2KR project in support of Moldovan farmers. Such assistance projects are aimed at backing the developing nations' own efforts to provide themselves with food products, and they envisage supply of means for purchasing agricultural machines and equipment, fertilizers, etc. In Moldova, thank to its own efforts, such projects are implemented very efficiently, and they are even becoming a symbol of Japan's help to Moldova.

We appreciate these development-oriented efforts by Moldova, and presently we are considering provision of a new 2KR tranche in 2008 as well. Also, Japan intends to further attach considerable importance to efficient using of this assistance for the sake of poverty reduction and food production build-up.

Q: Moldova has declared European integration as its chief priority. Do you think Moldova is able to attain it? And what would you say Moldova should do to bring closer the perspective of its integration into the European Union?

A: We express our respect for the constant efforts the Government of Moldova makes on the way to democracy and market economy thus trying to achieve the goal – integration with the European Union.

Japan intends to further develop broad cooperation with Moldova to promote such values as democracy, freedom, human rights, supremacy of law, market economy, as well as to underpin Moldova's efforts aimed at introduction of the principles of democracy and market economy.

Q: One of Moldova's chief problems is the problem of Transnistria. What is the Japanese Government's position on the issue?

A: The Transnistria problem is related to stability in that region, and Japan also wishes its prompt settlement. We presume it is important to solve this problem by using peaceful means, on the basis of the country's territorial integrity within the internationally approved state borders.

From this viewpoint, Japan welcomes the efforts made by the sides and organizations involved in the negotiation process to resolve the conflict, and strongly wishes Chisinau and Tiraspol to re-assemble at the negotiating table and to hold their dialog in a calm atmosphere within the 5+2 negotiation format, in which the European Union and the United States act as observers.

Q: In due time, Moldovan opera star Maria Biesu won the Grand Prix at the Madama Butterfly International Contest held in Tokyo. In a sense, one can say that event has formed a basis for cultural exchange between Japan and Moldova. Could you please describe how you are viewing the perspectives of our bilateral relations in the fields of culture, sciences, sports and education?

A: I know that Mrs. Maria Biesu won the Grand Prix at the Madama Butterfly International Contest in 1967, and that afterwards she did much to hold this contest in Moldova. I think she has contributed greatly to acceleration of cultural and humanitarian relations between Japan and Moldova.

I am aware of Moldovans' considerable interest to the Japanese culture and of the existence of numerous clubs of admirers of Japanese arts such as ikebana, origami, mizuhiki, karate, and other. Starting from 1999, when the Embassy of Japan organized the first festival – a Japanese Culture Week, Moldova has annually held ikebana exhibitions and Japanese cinema festivals, which receive a very favorable press. And in 2005, a contest was held in Chisinau to define the best speaker in Japanese.

I hope that by continuing such activities, our relations in the fields of culture, sciences, sports and education will be further developing. Presently, you cannot touch the Moldovan culture very often in Japan, but I hope that in the future we will come to have more such opportunities.

Infotag: Thank you ever so much for your interview, Your Excellency.

BACKGROUND: Presently, the Moldova-Japan relations are developing on the basis of 16 documents in force, signed during the visits paid to Japan by former Moldovan foreign ministers Nicolae Tiu (1992) and Nicolae Tabacaru (1999).