MOLDOVA TO REFORM PUBLIC PROCUREMENT SYSTEM TO BRING IT IN LINE WITH EUROPEAN STANDARDS
19.02.2008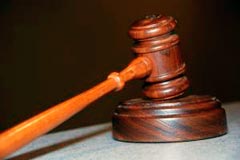 (Interview of Vice-Director of the Agency for Public Procurement and Humanitarian Assistance Teodor Potirniche to Infotag)

"I": The Government has recently approved the Regulations on making up the list of qualified economic operators for participating in public procurement, actualization and accounting. What does this document envisage and what are the criteria for economic entities to be included into this list?

Т.P.: The task of the list is to inform about enterprises, wishing to participate in the public procurement procedures. Alongside with it, this list will not be discriminative. The list is being made up on the basis of applications, submitted both by residents and non-residents. It will give the names, addresses, including e-mails and other general data, which will be published on the website of the Agency and will be regularly renovated. This will allow providing economic entities' access to budgetary institutions, which buy goods and services at the cost of public financial resources.

"I": Will economic entities have to pay for including them in this list?

Т.P.: No, the list is made free of charge. However, if economic entities want to place additional data of a general nature, advertising data can be placed against payment.

"I": What economic entities will not be included into this list?

Т.P.: Only those, which are on the list of restrictions or in a "black list". Our agency will make these lists, as well. The objective of this is to impede or to limit the participation in public procurement procedures for three years for those, who behaved incorrectly by having violated agreements, signed earlier with various institutions for the supply of goods for the state's needs.

"I": Until the present there has been no list of qualified operators for public procurement and auctions on the public procurement of goods and services have been already conducted during many years and, therefore, the "black list" is known…

Т.P.: For example, last year two economic entities, who were deprived of the right to participate in public procurement procedure during three years, were included in this "black list". They did not observe their contractual liabilities on the coal procurement for public institutions and created a lot of problems for them. However, if earlier a court decision was necessary for including economic entities in the black list, after the new law came in force, any institution, suffered from unscrupulous suppliers' actions, has the right to demand on the basis of the procurement commission's application to include them in this list. Of course, economic entities have the right to recur to the court, if they consider this unfair.

"I": And how many enterprises can be included into the list of economic entities on public procurement?

Т.P.: Their number is unlimited. In 2007 about 34 thousand public procurement agreements for 6.42 billion lei were concluded.

"I": Is any term fixed for accepting applications to be included into the list of qualified operators?

Т.P.: No. As soon as the Regulations are published, economic entities will submit applications within 15 days. The agency must take a decision and to place the name of operators on its site.

"I": For the last two-three months the Government approved a number of provisions, relating to public procurement…

Т.P.: Having the good law, worked out on the basis of the European standards, we must have efficient mechanisms for its implementation. Yes, seven provisions have been worked out and proposed. Three of them are waiting for conclusions. All in all, it is envisaged to work out a set of 15 normative documents, relating to various public procurement segments and procedures. All of them are aimed at increasing the transparency of these procedures, at providing a free access to these dada for economic entities and for any citizen, who is interested in public money spending methods.

"I": Which public procurement auctions are conducted currently?

Т.P.: These are auctions on the procurement of foodstuffs, oil products, medicaments. From the beginning of the year 380 auction have been already carried out. At the same time, we have signed a number of agreements on the procurement of material values both on the basis of price offers and direct purchases.

"I": What are the Agency's public procurement tasks for 2008?

Т.P.: Last year 71% of all the public procurement agreements were concluded in the course of auctions (for more than 4.5 billion lei out of 6.42 billion lei). The year 2008 will become the year of introducing a number of electronic procedures for public procurement. That is why, we pay much attention to the training of our procurement employees, as well as economic entities – our potential suppliers.