BIG COUNTRIES MAKE BIG POLICIES, WHILE MOLDOVA SHOULD MAKE CLEVER POLICY – URECHEAN
18.06.2008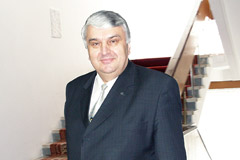 Infotag's interview with parliamentary Moldova Noastra Alliance (MNA) Chairman Serafim Urechean.

Question: Politics is not always implemented in white gloves by using honest rules of the game, and the so-called 'black PR' is gaining momentum. How do you manage to handle and neutralize intrigues and the cobwebs of the Moldovan politics?

Answer: I have long ago set myself priority goals and objectives. I try to pay no particular attention to what is happening around at the moment. I look much ahead and think about what can and must be done next, and which tasks have to be fulfilled.

Q: And what are these tasks?

A: The citizens of Moldova, a country with a vast potential and good resources, must live in worthy conditions. Moldova can become one of the richest countries in Europe! This is real. One should not forget there are no rich or poor countries, there are well governed and ill-governed countries. And what do we have here? The republic has a richest potential – natural and human one, but we cannot handle this wealth prudently. So on the horizon, in the future, I see a wise governance of the country, which must at last decide, once and forever, about its priorities. And the chief priority should certainly be the course for ensuring worthy living standards for citizens.

Q: Do you think our citizens are ready for such changes?

A: In all times, people deserved a worthy living. Regretfully, they did not always do all they could to be closer to their dreams to come true. We, Moldovans, constantly criticize the country leadership, often forgetting that the leadership has been elected by those very 'responsible' citizens who did not care going to the polls and thus entrusted their own future to other people.

So, what have we come to have now? The populace has been thrown into an information vacuum. I don't understand what the point was in canceling live television and radio coverage of parliament plenary sittings. When we speak of the transparency of the power, we must give citizens the possibility to know everything about the power's work, including the Parliament's work. But even in the information blockade conditions imposed on the Moldovan society by the ruling coalition, people start looking for the truth, analyzing what is going on around, and begin understanding things they have never noticed or thought about before. That was precisely what happened at the 2007 local elections. Our people are interested in Moldova's becoming a rich republic. And I believe that, then, Moldovans will stop going abroad for jobs – on the contrary, foreign workers will begin coming here.

Q: Is all this realistic?

A: Of course! Our republic is self-sufficient in terms of resources. Even in the Soviet times, there were only two USSR subjects – Russia and Moldova – who usually ended fiscal years with positive balances. Many people maintain that it is impossible to be rich without mineral resources. But the thing is, such natural resources as oil, gas or coal will end sooner or later, but the resources of soil, particularly of black soils which Moldova is rich in, are recoverable ones. With a wise, correct economy organization and with the food deficit in the world being forecast for near years, this republic may become a flourishing country.

But what do we have nowadays? Yes we eat overseas bananas and oranges, while our traditional products are vanishing from shop shelves. Look at our shops and markets: canned fruit and vegetables, juices, meat, even apples – all foreign ones! All this is happening because the State does not support or protect domestic producers. Our people feel no confidence about their future, so hundreds upon thousands of them emigrate for jobs, and many – for good. Over a million Moldovans – the elite of the [four-million-large] nation – currently work abroad, enriching with their labor dozens of foreign countries, not their native land, and remaining without rights, support or protection.

The present-day situation in Moldova reminds me of the Stalinist repression epoch, with perhaps one difference: then, people were exiled for political reasons, and nowadays Moldovans have to leave their homes and go abroad to spare their families of starvation and cold.

Q: Many reproach Moldovan gastarbeiters for lack of patriotism – for their alleged unwillingness to work here for the good of national economy development. Could you comment?

A: I am a sober-minded man and I realize perfectly that our workers go abroad out of hopelessness. Suppose, they come back home, and what should they do? Where can they work? How can they provide for their families? Look, an average pension in Moldova is US$37 equivalent a month, while the minimal subsistence level is over US$100. This means that an average pensioner can live only 10 days on his or her monthly pension. This is an answer to your question. We are a small country and should understand that big countries make big policies, whereas small nations must make clever policies. And the people's welfare is one of the components of such clever policy.

Infotag: Thank you very much for your interview, Mr. Urechean.