EURO-VEGAS FOR RUSSIANS: SPANISH DREAMS OF BARATARIA?
20.06.2012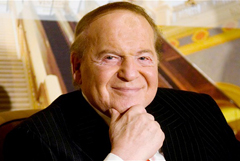 Sancho Panza, the character from Miguel Cervantes' classic "Don Quijote" frequently made plans on improving his economic situation by assuming the position of a senior public official:
"Not to forget, my Lord, about the island you have promised me, for be it ever so big I'll equal to governing it."

Indeed, at one point he became a governor of the island of Barataria. This was of course but a cruel joke, from which the Spaniards have apparently failed to learn any lesson.

The dreams of mythical Barataria, which would solve all of their problems, still dominate Spanish society. Right now, one of these dreams is the project of American billionaire, Sheldon Adelson, which is to build a casino-city in Spain, a so-called Euro-Vegas.

Mr. Andelson, perhaps you ought to re-read "Don Quijote" before making any final decision.

The pathology of compulsive gambling, also known as ludopathy, is not the most dangerous of Spanish society's ailments – although of course the fact that this condition is extremely common amongst its bankers makes it quite severe.

In an attempt to calm down the Spaniards and assure them that they will not lose what little money they still have, the representatives of American business have stated that their target market are foreigners. Sheldon Adelson is also very open about his desire to attract rich Russians.

In order to make it easier for the foreigners to bring money to his casino, Sheldon Adelson requested the Spanish authorities to introduce a number of important amendments to the Spanish monetary laundry control regulations. It remains to be seen if he succeeds in easing the current existing controls, but even considering the disastrous Spanish economic situation, should the Spanish government agree to this measure, even if it is an exception to the general rule and within the framework of creating a special zone of lesser regulation, you still have to deal with the existing Spanish public opinion.

Fuelled by the Spanish press, the general public is extremely biased, not only towards the Euro-Vegas project, but to any rich foreigners as well.

The whole idea of easing the entrance of foreign money into Spain looks positively laughable if one is to consider that Spain is currently looting hundreds of foreign enterprises under the guise of increasing the financial controls.

One only has to read any one of the dozens of articles that has appeared in the Spanish press over the last few years in relation to the so-called "Kokorev Case" and his shipping company "Kalunga". Over the last five years, the Spanish journalists have been accusing "Kalunga" of activities in which the company has never even been involved in - a massive acquisition of Spanish real estate for the African dictator, Teodoro Obiang. "It is even more absurd because these allegations have been proven false in courts years ago," states Kirill Yashenkov, Vladmir and Yulia Kokorev's lawyer.

In the last few years, Yashenkov has won six defamation cases against mass media in relation to "Kokorev's Case", including a ruling against El Mundo, one of the largest Spanish newspapers, which was the first to publish the false story.

None of this prevented another Spanish newspaper, El Pais, to continue publishing articles – more than a dozen - on the same topic and practically identical in content. It seems as though Spanish journalist, Jose Maria Irujo, who according to some public sources is not just a journalist but also a member of Spanish intelligence, has declared a personal vendetta against the Kokorev family. In some instances he has managed to squeeze three or even four articles against them in a single issue. And all of those articles say basically the same thing: there is a narrowing circle around the Kokorev family, a Russian entrepreneur who was unlucky enough to have chosen Spain as his place of residence.

What is even more puzzling is that although the not-just-a-journalist Irujo has been writing about Kokorev for more than five years, Vladimir Kokorev himself has not been declared guilty of any crime or wrongdoing. In fact, Kokorev has never even been questioned or summoned to court – not as defendant or as a witness - in the case in which Irujo is implicating him.

"During the hearings it was established that the Spanish smear campaign had not only caused moral damage to Kokorev's family, but also drove to bankruptcy their once successful shipping company, which had contracts for shipbuilding and exploitation of vessels with the government of Equatorial Guinea," stated Kirill Yashenkov.

We may love or hate African rulers, but no country has declared an economic embargo against Equatorial Guinea. There are dozens of American, Chinese, Israeli and Russian companies working in this country, and their activities are not limited to oil exploitation.

240 former crewmembers and captains of Kalunga's vessels, who lost their jobs due to irresponsible behavior of Spanish press, have also come to the defense of Vladimir Kokorev.

During the economic crisis, which is also affecting the Spanish press, the "Kokorev's Case" has long abandoned any limits of civilized journalism in Spain. This is somewhat understandable coming from the once respectable newspaper El Pais, which has not been paying staff salaries for the last few months, and have been defaulting on its own debt. Kalunga is only one example of the witch-hunt of foreign companies, as well as a local example of a startling wave of Spanish xenophobia.

It is for these reasons that we would like to recommend Mr. Adelson not only to re-read "Don Quijote", but also to regularly check the Spanish press, before deciding on building a gambling city in Spain.
Mihail Shushekin.