PRESIDENT DODON GRANTS MOLDOVAN CITIZENSHIP TO TIRASPOL ARCHBISHOP
01 september, 2017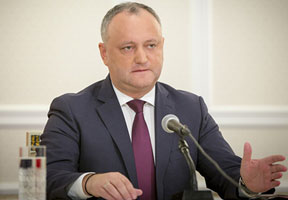 Archbishop of Tiraspol and Dubasari Savva (Sergey Volkov), born in 1958 in Russia, was granted Moldovan citizenship by Moldovan President Igor Dodon.

His Excellency Savva is heading the Tiraspol-Dubasari province of the Moldovan Metropolitan Church. He also is abbot of the John the Forerunner men monastery in Transnistria, as well as abbot of the temple complex of the icon of the Mother of God "Of the Three Hands" in suburb of Moscow, which is now in construction.

He was awarded by a whole number of Russian governmental awards, while recently was granted the medal "25 years of peacekeeping operation in Transnistria", though he is serving in the PMR only since 2010. Among Russian military awards of the parson there are: "For service in Caucasus" and "For service in strategic rocket forces".