PAS YOUTH MAINTAINS GOVERNMENT IS ACTING ILLEGALLY IN RELATION TO BUDGET STUDENTS
06 september, 2017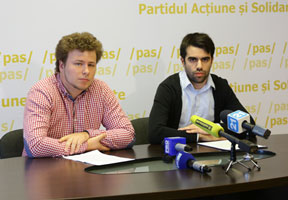 Representatives of the youth wing of the Party of Action and Solidarity – PAS Youth – maintain that the Government is acting illegally in relation to students, who are receiving higher education on the basis of the budget.

PAS Youth head Dan Perciun explained at the Wednesday's press conference that the Government is obliging students and graduates of specialized secondary education institutions, who are studying on budgetary basis, to work according to distribution plan for 3 years after graduation, while in case of refusal – to return to the state the cost of their education.

"Such mechanism is illegal, offensive and inefficient in today's conditions", he maintains.

According to PAS Youth secretary Artur Mija, the 2001 Government decree is contrary to the Education Code of Moldova, as it contains a typical contract, which is not provided by the legislation.

"It also violates the article #86 of the Code, which says that education contract contains the object of the contract, as well as rights and obligations of the sides. But the Government decree does not imply a clear mechanism of paying for the education by the student in case the latter refuses to work in the place he was sent to according to the distribution plan. The Code neither has a word about student's obligation to work for the state after graduation. The state distribution of young specialists in fact puts students in a subordinate position. A student from Chisinau may be sent to work to Soroca, a Cahul citizen – to Orhei and he finds out about this only after graduation. Also, the student does not know which is his future job, the institution he will work or the size of his wage", Mija said.

According to conference organizers, instead of creating well-paid jobs for the youth, the authorities are engaged in a simple blackmailing. They also said that they will submit a complaint to the Government.