PRESIDENT DODON CALLED ETHNIC MINORITIES TO STRENGTHEN SOCIETY UNITY FOR MOLDOVA'S FUTURE
25 september, 2017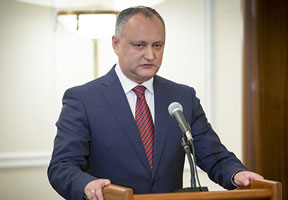 President Igor Dodon attended the Festival of Ethnicities "Unity in Diversity" in Chisinau central park on Sunday. The head of the state called on country's ethnical minorities to preserve their traditions and to strengthen the unity of the society for the future of Moldova.

Before the event opening, which is organized annually by the Bureau of National Minorities, the president together with festival participants laid flowers to the monument of Steven the Great, congratulated participants and thanked the organizers.

"Moldova is a country with multiple traditions of cohabitation in harmony of representatives of different nationalities. Our predecessors transmitted to us kindness and hospitality, openness and friendliness via genetic code. We first of all appreciate human personality regardless of his nationality, religion, language, declared values, while the notion "Moldovan hospitality" has already become legendary", Dodon said.

He pointed that Moldovans and Romanians, Russians and Ukrainians, Gagauz people and Bulgarians, Jews and Armenians, the Gipsy and Poles, Azerbaijani and Georgians are living in Moldova in peace and harmony.

"Not only Moldovans made the history of our state. Outstanding personalities of different nationalities left their trace in most various fields of socio-political and cultural life of the country. This proves that all of us are a single people, which is building a common future", the president said.

He stressed that the current period of political, social, economic fluctuations, which is far from easy, will no doubt bring the population together.

"I encourage you to occupy a mature civil position in issues concerning mutual respect, tolerance to language, culture, religion and confession of each person, and to actively contribute to strengthening our independent and sovereign motherland – Moldova", Dodon said.

The festival gathered representatives of different national minorities and ethno-cultural organizations, as well as foreign diplomatic representations. However, there were no representatives of the Government or the Ministry of Culture. The only deputies, who attended the event, were Deputy Speaker Vladimir Vitiuc and Chairwoman of the parliamentary Standing Committee for Foreign Policy and European Integration Violetta Ivanov.