FLAUTIST ION ZAHARIA MARKED 55TH ANNIVERSARY OF MUSICAL CAREER IN CHISINAU CATHOLIC CATHEDRAL
29 september, 2017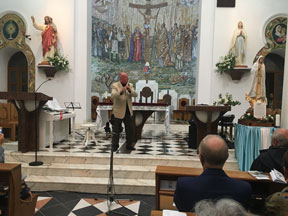 Over 100 people, including representatives of cultural organizations and the diplomatic corps, attended the concert, organized on Thursday in honor of flautist Ion Zaharia, who is marking the 55th anniversary of artistic career this year.

Among the guests, there were Italian and Russian Ambassadors to Moldova Valeria Biagiotti and Farit Muhametshin.

The concert was organized in the Roman Catholic Cathedral in Chisinau with the support of the Italian audio recording company Helidon.

The concert marks the launching of the project "Moldova" implemented by the Helidon company, which is aimed at opening and supporting talents everywhere, where people speak Romanian and Russian.

Director of the project Gianni Barbieri said that the idea of the project appeared a year ago, when he visited Moldova for the first time.

"In Moldova there are many talented singers and people, who unfortunately are not very well-known or appreciated at the regional and international levels. We hope this project will help Moldovan talents to get international recognition", said Gianni Barbieri.

Infotag's dossier: The Halidon campaign has a 20-year experience in promoting musical product all over the world. A year ago it set a goal to discover, support and present to the world musical community the musicians from the Eastern Europe. The company chose Chisinau as headquarter.