CCI AWARDS BEST PRODUCERS OF HOMEMADE WINE
09 octomber, 2017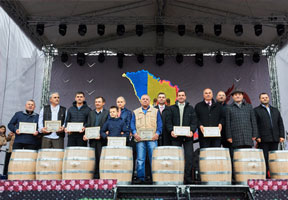 The Chamber of Commerce and Industry of Moldova (CCI) awarded winners of the homemade wine contest "Golden Barrel" within the festivities dedicated to the National Wine Day in Chisinau on Sunday.

According to the CCI, in total over 500 samples of homemade wine were submitted, but only 104 samples were admitted to the republican stage of the contest. The winners were established by a group of professional sommeliers.

The main prize – a 100-liter barrel – went to Tudor Arhip from Sadova village (Calarasi raion) for 2016 white wine, Tudor Septelici from Ungheni – for red wine, Andrei Pohilenco from Causeni – for rose wine.

The contest is being conducted since 2002. Over this time, more than 7 thousand samples of wine were submitted for participation in it and around 150 winemakers were awarded.

According to the National Vine and Wine Office (NVWO), Vladimir Hmelnitchi of "Wines of Comrat" company was declared the Oenologist of the Year.

A gratifying medal "Wine of Moldova. A Legend Alive" was given to Eugen Pislaru (Salcuta) for special contribution in developing winemaking industry, promotion and implementation of reforms on reviving the winemaking. Also, medals were given to wineries Kara Gani and the tourism agency "Winetours Moldova" for merits in wine tourism development and promotion.

This year, a record number of winemaking companies (47) gathered under the single brand "Wine of Moldova. A Legend Alive", which presented over 1 thousand varieties of alcoholic beverages, among which 2017 young wines, collection and reserve wines, sparkling wines and divins [in Moldova, this is the name of the alcoholic beverage, which is called as "brandy" in the rest of the world].