PARLIAMENT BUILDING TO BE ILLUMINATED IN LITHUANIAN FLAG COLORS
16 february, 2018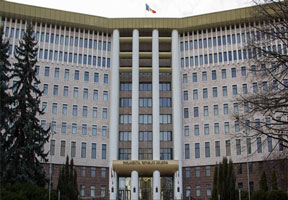 The building of the Moldovan Parliament will be illuminated in colors of the Lithuanian flag on Friday at 18:00 through 22:00.

According to Moldovan Parliament Chairman Andrian Candu, the action is conducted as a sign of solidarity with the Lithuanian people who celebrate their country's 100th anniversary of independence.

"We have established good relations on the basis of cooperation. Through this gesture, we show that as Moldova relies on Lithuania's help, the Lithuanian people also can rely on our support", the Speaker said.

Ambassador Extraordinary and Plenipotentiary of Lithuania to Moldova Rimantas Latakas thanked the Moldovan Parliament leadership, saying that February 16 is the most important day for his country, when its people celebrates the birthday of the modern Lithuania.

"We highly appreciate that you agreed to illuminate the Parliament building in colors of the Lithuanian flag to show solidarity with our people. The flag is the most important national symbol that unites the entire Moldovan people", he said.

According to the Ambassador, friendship relations between Lithuania and Moldova include both traditional elements of interstate cooperation, such as visits at various levels, and active cooperation in the field of culture, arts, education science and healthcare.