MOLDOVA PRESIDENT MEETS IN MOSCOW WITH PRIMATE OF RUSSIAN ORTHODOX CHURCH
14 june, 2018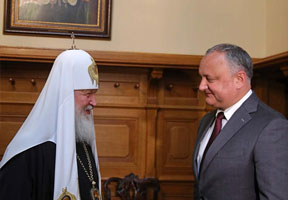 Moldovan President Igor Dodon met in Moscow with His Holiness Kirill, the Patriarch of Moscow and All Russia, the Primate of the Russian Orthodox Church.

Dodon wrote on his Facebook page afterwards: "I've held a meeting with His Holiness the Patriarch. We discussed a multitude of questions, of which the most important was concerning the struggle for saving and promoting tradition family values".

The President informed Patriarch Kirill about preparation to the World Family Congress to be held in Chisinau next September.

"We discussed details of the Patriarch's pastoral visit to Chisinau and his participation in the World Congress. I wished His Holiness good health and assured him of the Moldovan people's devotion to the Orthodox faith", wrote Igor Dodon.

As was already reported by Infotag, Igor Dodon flew to Moscow on Wednesday to attend the opening of the FIFA World Cup 2018 that will take place on Thursday evening. And on Wednesday, together with other guests and Russian President Vladimir Putin, Dodon enjoyed the large festive concert organized in Moscow's central Red Square.

"I wished Russian President Vladimir Putin a successful conductance of the world championship and a good performance of the Russian national team at home", Dodon wrote in the social networks.

On Thursday evening, the ceremony of the official opening of the world football tournament will be attended by the leaders of 17 countries, mainly from the FSU area and Latin America, namely the Presidents of Azerbaijan, Armenia, Belarus, Bolivia, Kazakhstan, Kyrgyzstan, Lebanon, Moldova, Panama, Paraguay, Rwanda, Saudi Arabia, Tajikistan, Uzbekistan, as well as the leaders of the self-proclaimed and internationally unrecognized republics of Abkhazia and South Ossetia. The People's Democratic Republic of Korea will be represented by Kim Yong-nam, the President of the Presidium of the Supreme People's Assembly of North Korea.