MOLDOVAN LEADERS LAY FLOWERS TO STEFAN CEL MARE MONUMENT
27 august, 2018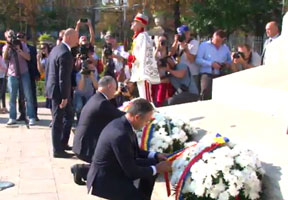 On Monday – the Moldova Independence Day, the republic rulers laid flowers to the Stefan cel Mare monument under the indignant whistles of protesters, kept by police away from the monument.

Among those, who laid flowers to the monument, were president, Parliament chairman, prime minister, deputies of the country's first Parliament, ministers, diplomats accredited in Chisinau, veterans of the Transnistria armed conflict. For the first time over many months, President Igor Dodon, Speaker of the Parliament Andrian Candu and Prime Minister Pavel Filip appeared together at a public event.

During the procedure of laying flowers, several hundreds of protesters in Chisinau downtown were continuously chanting: "Thieves!", "Shame!", "Traitors!", "Down with mafia!". Fully equipped police officers created cordons, pushing the protesters away from the main square and the square in front of the Stefan cel Mare monument.

After the dispersing protesters at 5:30 in the morning, police officers made cordons, blocking the access to the central square and the Stefan cel Mare monument. Despite this, protesters continued the rally. First, the "Occupy Guguta" oppositional youth held a noisy protest against the actions of the authorities and police. They were using drums, penny whistles, pans, basins, canisters and other things to make noise. They were also chanting "This is how democracy sounds!".

By 11 o'clock, protesters walked around the city main square, cordoned off by police, and went through the Chisinau main street chanting "This is not democracy!". They went to the house of Democratic Party Chairman Vladimir Plahotniuc. However, they were not allowed by police, after which the people tried to get access to the building by another street.