NEW ACADEMIC YEAR STARTS ON MONDAY
03 september, 2018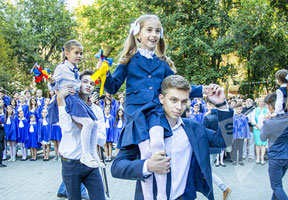 A new school year has started in all Moldovan educational institutions on Monday. Solemn gatherings were held to mark this day in country schools and lyceums this morning. Many such gatherings were attended by republic heads, MPs, ministers, politicians.

According to the order issued by Minister of Education, Culture and Research Monica Babuc, the topic of the first lesson in the new 2018-2019 academic year is "Language, history and land are three pillars for the nation". This lesson is dedicated to the life and creation of Ion Druta – classic of the modern Moldovan literature, who marks 90th birthday anniversary on September 3.

According to the plan, approved by the ministry, the first school semester starts today, September 3 and will last till December 21, 2018. The second semester will start after winter vacation – on January 9, 2019 and will conclude on May 31. For graduating classes – the 9th and the 12th – the second semester will conclude on May 24, 2019, after which the preparation for exams will start.

There are 1243 primary and secondary education institutions in Moldova. This year, around 35 thousand children went in the first grade, which is approximately 2 thousand more than last year. In total, around 300 thousand pupils will be attending educational institutions in the 2018-2019 academic year, which is almost 20 thousand less than in the previous year.