MOLDOVA STRUGGLED TO DELIVER PRESTIGE GOAL IN GAME AGAINST FRENCH TEAM
25 march, 2019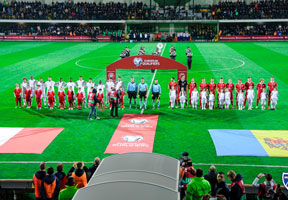 The first game of the UEFA Euro 2020 between the teams of Moldova and France ended with the score of 1:4 in favor of the world champions.
The game took place on the Chisinau stadium "Zimbru" on March 22.

The Moldovan team was lucky at the end of the game, when Vladimir Ambros hit the goal at the penultimate minute of full time.

In other games of the H group, the next results were registered: Andorra-Iceland – 0:2; Albania-Turkey – 0.2.

The next game of the current qualifying round the Moldovan team will play against Turkey on March 25.