MOLDOVAN TENNIS PLAYER RADU ALBOT DECORATED WITH DIPLOMATIC MEDAL
02 april, 2019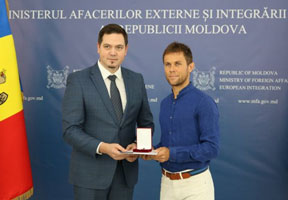 Moldova's Minister of Foreign Affairs and European Integration Tudor Ulianovschi has handed in to the country's best tennis player Radu Albot a medal "For Diplomatic Merits", Grade III, which was awarded to him yet last January 17 on the Diplomatic Workers' Day.

The ministerial medal has been given to Radu Albot "For special merits in promoting the Republic of Moldova's international image and for civil activity in bringing up of the young generation".

The medal was institutionalized in late 2018 and is awarded "for special merits in conducting the Republic of Moldova's foreign policy, for the protection and promotion of the country's national interests on the international arena, for the protection of Moldova citizens' rights and interests abroad, for the promotion of Moldova's bilateral and multilateral political, trade, economic, cultural and scientific ties with foreign states and international organizations".

Accepting the medal, Radu Albot said it was a great honor for him to receive the high award. He promised to always represent the Republic of Moldova and do his utmost to make his native country better known in the world.

Recently, Radu Albot performed successfully at the ATP tournament and reached the 46th position in the world lawn tennis rating – the highest one in the Moldovan tennis history.