​AGENCY FOR INVESTMENTS ORGANIZES INFORMATION TOUR TO MOLDOVA FOR GERMAN JOURNALISTS
03 april, 2019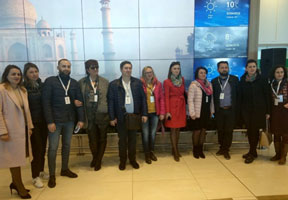 A group of journalists and tourism agency representatives from Germany have come to Moldova in the framework of a 5-day information tour organized on the initiative of the National Agency for Investments with assistance rendered by the Embassy of Germany to Moldova.
Agency Director Rodica Verbeniuc says the information tour is a part of the Plan of international promotion of Moldova as an attractive tourism direction. The tour is aimed at establishing cooperation between the representatives of the tourism sectors of Germany and Moldova.

"Its organization became possible thanks to the responsiveness of local suppliers of tourist services who responded constructively to the Agency's invitation. This is a good example for the state-private partnership for the development of tourism as a strategic-importance sector of the Moldovan economy", said Verbeniuc.

The German guests will visit the historic complex "Old Orhei", the Curchi Monastery, the underground wine storages of Cricova, Chateau Purcari, Castel Mimi, the Asconi Winery and other sights.

An analogous tour was organized for a delegation from Belarus last December. The Agency intends to arrange information voyages for the representatives of other countries as well.