​A 'STOCKYARD' TO OPEN IN CHISINAU ZOO
22 april, 2019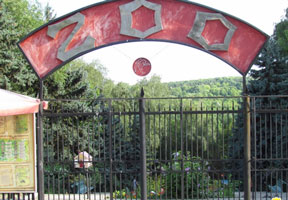 The works on building a 'stockyard', where small domestic animals and various poultry will be demonstrated, is nearing completion in the Chisinau Zoo.
According to zoo Deputy Director Sergiu Pinzari, the practice of petting zoo will be implemented for the visitors.

"This means that visitors, especially our small guests, will have the possibility to touch the animals, to feed them, to play with them. It is about rabbits, guinea pigs, doves, even a pony. Obviously, the zoo employees will be present during this process", Pinzari said.

According to him, within a week the guests will also get the possibility to visit a terrarium.

"It is almost finished in technical aspect. There will be 14 snakes. We have an anaconda, boa constrictors and types of snakes", said the deputy director.

The works on preparing a zone for bears in the zoo are well under way.

"There are two bears so far and they live in small aviaries. This animal is very dangerous, but it needs freedom of movement. Thus we decided that they will get a larger zone for living", he said.

All these events are conducted within the framework of the soon opening of a new zoo season.

In total, the Chisinau zoo has over 1.6 thousand animals of 148 types. Among them there are 30 large predators, including a snow leopard, an ordinary leopard, a couple of lions and a couple of tigers. There is also a pond where rare birds are nesting, for example black swan.