INTERNATIONAL MUSEUM DAY AND EUROPEAN NIGHT OF MUSEUMS TO TAKE PLACE IN MOLDOVA
15 may, 2019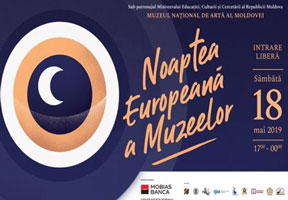 The International Museum Day and the European Museum Night will be held in Moldova on Saturday, May 18.

Minister of Education, Culture and Research Monica Babuc said at the Wednesday's press conference that a special program will be organized in Moldovan museums under the auspices of the Government for familiarizing for Moldovan people with the cultural heritage of museums and public organizations.

"Museums became complex cultural and interactive institutions. In Moldova there are 124 museums. They will host various events and master classes starting from 10:00 through 23:00 on Saturday, while the culmination of the program will be performances of local and foreign singers", Babuc said.

In the National Museum of Arts, students of the Academy of Music, Theater and Fine Arts (AMTAP) will be drawing portraits of visitors. In the garden of the National Museum of Ethnography and Natural History a musical pavilion will be re-opened after rehabilitation. The National Museum of History provides to guests the possibility to visit open-air cinema and electronic shooting range, to see the exhibition of medieval weaponry, while children will benefit from an interactive program.

The Parliament will also participate in the European Museum Night, presenting an exhibition of cars. The Museum of Chisinau History will host an exhibition "Vanished Heritage". A number of events will take place in museums all across the country and in the Soroca Fortress. On Saturday the admission to all museums is free.

Infotag's dossier: The Museum Night is held in European countries on the occasion of the International Museum Day. It was initiated by the French Ministry of Culture and the International Council of Museums on May 18, 1977.