GOVERNMENT APPROVES LIST OF CANDIDATES FOR NATIONAL AWARD 2019
23 august, 2019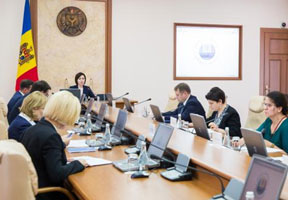 The Moldovan Government has approved the list of winners of the National Award 2019, who will receive the award on the Independence Day, on August 27.

Six out of 33 applicants were selected, as well as a group of scientists. Thus, the winners of the National Award 2019 include: an artist and book designer Alexei Sainciuc – for his artistic activity, originality and extraordinary contribution into the development of aesthetic values of the new generations through visual art; violinist Alexander Conunov-Dumortier – for mastery in the world of violin art and promotion of Moldova's image abroad; actor, director, writer Gheorghe Urschi – for Opera Omnia; novelist and playwright Valentin Butnaru – for the promotion of theatrical art development in Moldova; writer Tatiana Tibuleac – for promotion of aesthetic values and Moldova's image at the European level; sculptor Iuri Canasin – for the promotion of art of sculpture development and universal values.

A group of researchers composed of doctors of biological sciences Galina Lupascu, Nadejda Mihnea, Larisa Andronic and Svetlana Smerea will receive the National Award for research and innovation development in the field of improving agricultural crop productivity and sustainability through modern and traditional biotechnologies.

The National Award – 100 thousand lei – is awarded to citizens of the republic for outstanding achievements that have significantly enriched science, technologies, culture, art and sports, who contributed to the promotion of the country's positive image at the international level, who had a significant impact on scientific and technological, social and economic progress. The award is designed to stimulate creative activity and promote true values in science, technologies, culture, art and sports in the Republic of Moldova.