JAPANESE HELP TO MOLDOVA IS AIMED AT DEVELOPING DEMOCRACY - AMBASSADOR
20 september, 2019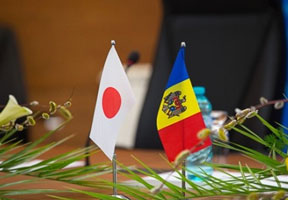 The Ambassador Extraordinary and Plenipotentiary of Japan to Moldova, H.E. Mr. Masanobu Yoshii, met with representatives of the Moldova-Japan Parliamentary Friendship Group in Chisinau on Thursday.

According to the Parliament, he confirmed the readiness of his country's leadership to implement joint projects in the field of economy, agro-industrial sector, social protection, education, science and culture.

Chairman of the parliamentary friendship group Grigore Novac thanked the ambassador, while in his face the Government and the entire Japanese nation and expressed hope that the process of visa regime simplification between the two states will be continued.

He highly appreciated the canceling of visa regime with Japan for Moldovans, holders of diplomatic passports, and expressed hope that the process of visa regime simplification between the two countries will be continued.

"The recent formation of the Parliamentary Friendship Group in Moldova and the intention of the Japanese side to soon start the functioning of an equivalent group in Japan will contribute to the extension of bilateral cooperation. Japan is a partner and friend, which for many years demonstrates that it shares values of Moldova and its citizens. We are still open for active cooperation in all fields", he assured.

Chairwoman of the parliamentary Standing Committee on Public Administration, Regional Development, Environment Protection and Climate Change Violeta Ivanov expressed Moldova's interest in mastering Japanese experience in the policy of quality potable water supply, waste disposal, sustainable resource management.

Deputy Chairman of the parliamentary Standing Committee on Agriculture and Food Industry Vladimir Bolea transmitted to the ambassador words of gratitude from farmers, who received technical and financial assistance from the Japanese Government. He also pointed at the Moldova's increased interest in implementing modern technologies in agricultural processes, in particular, in soil treatment, grape growing, wine production.