MOLDOVA RECEIVES OFFICIAL INVITATION TO TAKE PART IN 2020 TOKYO OLYMPIC GAMES
08 octomber, 2019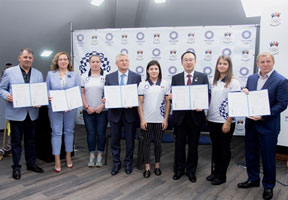 The national team of Moldova has received an official invitation to take part in the forthcoming Olympic Games to be held in Tokyo from July 24 to August 9, 2020.
On Monday, the National Olympic and Sports Committee (NOSC) was visited by a representative delegation from Japan who came here to sign a cooperation agreement with Moldova. According to it, the Moldovan team will get the possibility to go to Japan one month before the Olympic Games start to acclimatize themselves and get better prepared to competitions in local conditions. The administrations of the cities of Tsuruoka and Nishikawa have stated readiness to offer their sportive facilities for Moldovan athletes.

Mayor of Tsuruoka Mr. Osamu Minakawa said that the city has an excellently equipped shooting-range and an up-to-date sportive center where Moldovan athletes can train. And Nishikawa has good facilities for rowing.

According to Moldovan NOSC President, Olympic champion Nicolae Juravschi, the Japan authorities have decided to undertake practically all expenditures, so the Moldovan Committee will have to cover only the team's travelling expenses.

By the present moment, admissions to the Tokyo Olympics have been received by Sergey Margiev, Lilia Fiscovici, Dimitriana Surdu and Zalina Petrivska (all track and field), by archer Alexandra Mirca, swimmer Tatiana Salcutan and wrestler Anastasia Nichita.