MOLDOVA WILL RECEIVE 100 SAKURA SEEDLINGS FROM JAPAN
25 octomber, 2019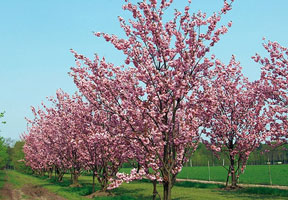 The Japanese city of Tomi will present to Moldova 100 Sakura seedlings. President Igor Dodon wrote on his Facebook page about his meeting with City Mayor Toshio Hanaoka, with whom they discussed cooperation perspectives.
"This is one of cities, which will host national Olympic teams on Olympics and Paralympics 2020. I welcomed the city mayor's initiative to give a present to Moldova – 100 seedlings of cherry blossoms next spring to mark the countdown of 100 days till the beginning of the Olympic Games. This gesture will become a symbol of cultural connections between our nations", Dodon wrote.

He also wrote that he brought to the Tomi City a collection of high quality wines with the president's signature "For the friendship of Moldovan people and the Tomi City". The wines will be put for auction.

"The funds, received from the wine selling, will go to liquidation of consequences of the typhoon Hagibis, which recently stroke Japan and caused serious material damage including to the Tomi City", Dodon wrote.

According to him, on October 6, 2017, the Tomi Mayor visited Moldova and signed a Memorandum of Understanding with the mayor of Cahul municipality. The next visit of the Japanese delegation to Moldova was planned for the first half of the next year.