POLAND EMBASSY CONCLUDES ANOTHER STAGE OF WORKS ON REHABILITATING COMMEMORATIVE GRAVESTONES IN CHISINAU
30 octomber, 2019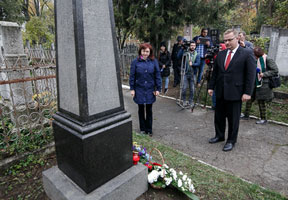 Several gravestones on tombs of Poles, who lived in 19-20th centuries in Chisinau, were inaugurated in the territory of the Roman-Catholic (Polish) cemetery on Tuesday.

The gravestones were restored on the basis of a memorandum, signed between the Chisinau Primaria and the Polish Embassy on October 27, 2014 for preserving the cultural Polish heritage in the territory of Moldovan capital city.

At the inauguration ceremony, Ambassador Extraordinary and Plenipotentiary of Poland to Moldova Bartolomiej Zdaniuk pointed at the importance of honoring the ancestors.

"Proper care about gravestones is an evidence of not just our efforts, but also our memory. If we do not care about our ancestors' gravestones, we are not worthy regarding ourselves as patriots of Poland", he said.

According to the diplomat, the repairing of gravestones is the policy of the Polish state, thus the work in this direction, including in Chisinau, will be continued.

Director of the Chisinau ritual services bureau Ludmila Botan expressed gratitude to the Polish Government for support in rehabilitation of gravestones, saying that there are over 3 thousand tombs on the cemetery, one-half of which are of Poles.

She expressed hope that the Oganowicz Chapel in the cemetery will also be rehabilitated with the support of Poland.