OVER 600 STUDENTS PARTICIPATED IN NBM FINANCIAL EDUCATION ACTIVITIES
12 november, 2019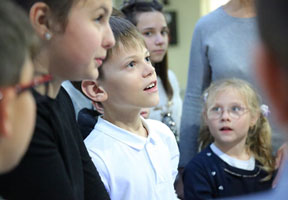 Over 600 students and schoolchildren participated in activities the National Bank of Moldova organized on the occasion of the World Savings Day.

The trip started from the NBM office, from where the money comes to economy, because it plays an exclusive role in issuing banknotes and coins as payment means.

In the National Bank's building, schoolchildren and students had the possibility to see collections of commemorative and anniversary coins, issued by the NBM and by other countries' central banks, as well as the gold bars in the bank vaults.

High school students tested their financial knowledge in an interactive game, receiving monetary prizes.

"This process proposes multidimensional advantages – teaching to form personal budget and savings, as well as perspective of developing entrepreneurial and investment capacities for efficient financial integration. The bank will continue helping the population in financial education", NBM President Octavian Armasu said.

The event "Money Road" was organized by the NBM and the Expert-Grup Center in partnership with commercial banks of Moldova within the project "Experience! Understand the Money".