WEEK OF RUSSIAN LANGUAGE AND CULTURE STARTS IN MOLDOVA
05 december, 2019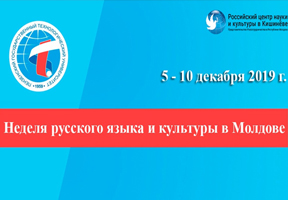 The week of Russian Language and Culture is held in Moldova on December 5 through 10.
According to RosSotrudnichestvo [Russian Federal Agency for the Commonwealth of Independent States, Compatriots Living Abroad and International Humanitarian Cooperation] representation in Moldova, it is organized by the Penza State Technological University with the support of the Russian Ministry of Education for popularizing of the Russian language, literature and culture in Moldova.

Within the week, popular science lectures will be held in a number of universities, lyceums and libraries of Chisinau. These will be oriented on relevant problems of the Russian linguistics and methods of teaching Russian language and literature; workshops and demonstrative lessons of communication will be held with using of electronic teaching resources. Leading professors of the Penza University will speak in front of teaching staff and students of philology faculties.

The program of the Russian Week implies workshops "Traditions of Education as Basis of Forming Spiritual Space" and "Following the Northern Wind: Traditional Culture and Forgotten Crafts of the Russian North", quest "Jubilee Marathon" – extracurricular event with using of the thematic of commemorative dates of the Russian science, literature and culture.

Admirers of the artistic word can participate in the discussion "Moldovan Russian Literature".

The Russian Federation will be represented at the events by a whole range of creative people.

According to organizers, the Russian Week in Chisinau will become a week of new discoveries in the field of the Russian literature and arts, a week of meetings with interesting people and will serve to extension and strengthening the Russian-Moldovan intercultural dialog and the Russian cultural and educational space in Moldova.