CHARITABLE FAIR TO BE HELD BY EMBASSIES IN CHISINAU
06 december, 2019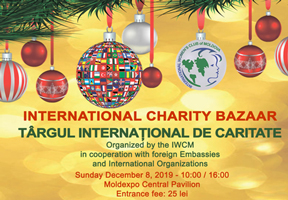 The International Women's Club is organizing the 23rd Christmas Charitable Fair at the MoldExpo International Center on December 8.

According to the Club, around 25 embassies and international organizations, accredited in Moldova, will participate in the event. "Nongovernmental organizations and craftsmen will also participate in the event. Visitors can see their production and buy traditional dishes of different cuisines of the world, beverages, artworks, clothes, books and hand-made toys. This year, the Spain's consulate will take part in the fair for the first time", said the Club's Co-Chairwoman Maria Marinuta.

According to her, the money earned within the fair, will be distributed in the form of grants among NGOs, which are implementing projects for children and women from socially vulnerable groups.

"Within the event, lotteries will be organized. The cost of tickets for participation in the lottery will vary between 10 and 50 lei, depending on the cost of prizes. Visitors will benefit from a vast artistic program. The admission to the event costs 25 lei, but for children, the elderly and persons with disabilities the admission is free. The fair will be open from 10:00 through 16:00", Marinuta said.

The Co-Chairwoman said that over the last 5 years the organizers raised over 3 million lei and ensured financing of 40 charitable projects.
thanks for sharing
immigration lawyers Dubli

I hope they can arrange more charitable events like this this year.
stem cell therapy in cincinnati for lower back pain


John here! Hope to be an instrument and be a part of this charitable event!

This is greatly amazing! Hocatt NYC

Various sport brands, charity organizations and commercial companies took part in the fair arborist north shore auckland


Cool, bruh...
Misties Unite

This looks like such a great charity event

Jack,
Man with a van | House clearance | Artificial grass

Seeing charity makes us feel way better about the world
Retaining Wall Albany

Hope these charities keep being charitable Hardscapes Albany NY

Happy the NGO's are getting what they need, residential drainage

My second visit here and I can see that everyone is still responsive. To the responders, let us not be abusive. Thanks for updating.

URL: www.treeremovalwestaucklandarborists.kiwi/


It's amazing that the organizers were able to raise over 3 million lei. I hope that they are able to raise more than that this coming holiday.



All for a good cause. Cincinnati Roofing Contractors

Do you plan on holding another fair this year?

David - Ladue, MO | dumpster sizes




This is truly inspiring. It is so great that they were able to ensure the financing of 40 charitable projects. I really hope that they continue to have these types of events in the future.

The embassy office doesn't have a consular section. You can apply for a consular statement, the legalisation of a signature and a Laissez-Passer (LP) at the embassy office. Only by appointment.
-kitchen joinery and cabinetry

What a great work you guys did there. I always want to host a charity to help others people.
learn more


This is truly inspiring. It is so great that they were able to ensure the financing of 40 charitable projects.
Visit la pool cleaning


Great post! Thanks for the share. tree service near me

This is so inspiring, I love reading post like this. emergency roadside assistance

This is the fifth forum that the British Embassy in Chisinau has organised. We in tree services company has a charity also.

Inspiring post! Thanks for sharing. louisville concrete contractors near me | concrete contractors near me

Thank you for the update.

Brandon of Birmingham Dumpster Rentals
"Best rates for Residential Dumpster Rentals and Commercial Dumpster Rentals in Alabama!"

I thank you for the information! I was looking for and could not find. You helped me! 192.168.l.l

Great work by a great organization . It is super inspiring to see charitable work like this getting done .

I love the information that this website brings. Thanks! - Home Makeover

I find this article inspiring. Continue to spread love and positivity. Thanks!
watch game of thrones

Nice! We should have more events like this. 1212 meaning Things to Do in Asheville



I had news about this fair and it was an awesome and successful fair. I hope you guys will continue it on other countries. makeup tutorials

Great event! Awesome idea as well for a startup funding


If you need a Party Bus in Philly check us out!

This is truly inspiring, I hope Covid-19 won't affect thous kind of event's, becouse this virus did change our landscape but i hope it wont change our humanity.

We should have more events like this. This is truly inspiring to everyone.
Regards,
www.watersoftenersolutions.com/


this website is amazing is a good article and great info,thanks god bless.Electrical companies perth

this website is amazing is a good article and great info,thanks god bless.Electrical companies perth

I still gravitate here because the articles are so heart-warming to read. Everybody want a good services, plasterer sydney my give you that.

Thanks for sharing this great post.

Thanks for sharing this great post. septic services

I like the content of this post. dead battery

Awesome post. pooper scooper

Thanks for this post!Tree Service Arlington Heights IL

Would love to see more great posts here. Printing Little Rock

Thanks, very impressive. Really I appreciate you to continue your work. Regards from http://www.bafencingservices.com/

Thanks for sharing such a great website and information. Concrete Contractors Omaha NE

A good a heart for everyone always bless by God, Please continue to help! dumpster rental Flint MI