OVER 130 MUSICIANS FROM MOLDOVA AND TRANSNISTRIA PARTICIPATED IN EU-SUPPORTED CONCERT
10 february, 2020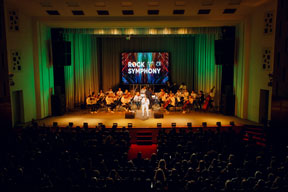 The "Rock Symphony" concert, which took place in Tiraspol this past Sunday with the European Union support, gathered 135 performers, including 95 children from both banks of the Dniester River.

According to the EU Delegation to Moldova, the concert was aimed at gathering together musicians from both sides of the Dniester River within the tour "Music Unites People".

Within the event, the Moldovan National Youth Orchestra, conducted by Andriano Marian, performed, while the "Sonor" Choir and the Tiraspol choir "Firicel", accompanied by instrumentalists, performed rock songs of such groups like Queen, Nirvana, Bi-2, The Scorpions and the Beatles. In autumn 2019, this group of performers gave concerts and organized musical flash mobs in a number of localities in Transnistria, which were visited by over 1 thousand people.

"Two large-scale concerts are planned for June and July 2020. The total length of the tour will account for 2500 km. Over 100 instrumentalists from Moldova, the EU, the US, Russia and Ukraine will participate in it. The European Union supports the conducting of such events by means of the EU Program "Support to Confidence Building Measures". It is aimed at bringing residents of the Dniester River sides closer by means of involving them in joint development projects", the press release says.