EDUCATION MINISTRY PREPARES DOCUMENTS FOR DISTANCE LEARNING
02 april, 2020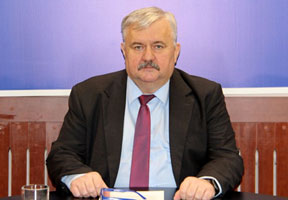 The Ministry of Education, Culture and Sciences prepared all the necessary document, curriculum and other normative acts for distant teaching of schoolchildren and students of all levels, reported Minister Igor Sarov at the Wednesday's press conference.

He said that 92% of Moldovan students have the possibility to receive distance education, but for complete implementation of this type of teaching it is still necessary to resolve some technical and logistic problems.

"We are trying to help schoolchildren and students, who do not have access to internet and online education platforms. Besides, we want to attract parents to the process. We also are in permanent contact with our international partners for resolving the problems together", the minister said.

According to him, there are not enough tables and laptops in Moldova for distance learning, as well as not all the teaching staff have necessary skills of using digital technologies for conducting the online teaching.

Sarov said that the ministry is studying the international experience and is considering several scenarios of conducing graduation exams and will adopt the most rational one, but it will not support the canceling of baccalaureate exams this year.