​ROSSELHOZNADZOR MAY BAN MOLDOVAN IMPORTS IN CASE OF RE-EXPORTS
27 january, 2016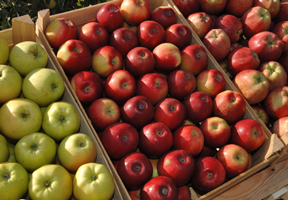 The RosSelhozNadzor [Russian Federal Service for Veterinary and Phytosanitary Surveillance] is concerned about the crop production, supplied to Russia from Moldova, suspecting the re-export of goods, said head of the Russian sanitary service Sergey Dankvert at the Tuesday's meeting with head of Belarus Main State Inspectorate for Seed Production, Quarantine and Plant Protection Leonid Plesco.
According to the RosSelhozNadzor website, the key topic of discussion became steps for preventing smuggling of crop goods from Belarus to Russia.
The Russian side pointed at the last-month decline in the flow of illegal goods, arriving from the Belarusian territory on forged phytosanitary certificates about countries of origin. However, cases of importing sanctioned goods, prohibited for supplying to Russia, still occur.
Russian partners called the Belarusian side to adopt a more responsible approach to controlling of the imported cargoes, to rely not only on checking accompanying documents, but also to listen to elementary logic, especially in cases, when from a certain territory arrive goods, uncharacteristic to this country in terms of its morphology.
As for the Moldovan goods, it was said that its volumes and morphology demonstrate that European goods are being disguised as Moldovan products and supplied to Russia.
In connection to this, the RosSelhozNadzor doers not exclude the possibility of introducing restrictions on importing such goods against companies, which have already been caught at such illegal actions.
Besides, the Russian agency expressed the intention to send its specialists to Moldova for familiarization with processes of producing crop goods, designed for exporting to Russia.