MOLDOVA MAY BECOME LEADER IN INFORMATION TECHNOLOGIES – THOMAS RHODES
25 april, 2016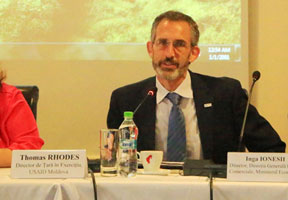 Moldova can compete with most of countries in the field of IT-technologies, but for this reforms should be conducted, said United States Agency for International Development (USAID) Moldova Acting Country Director Thomas Rhodes at the Monday's conference "International Experience in Promotion and Supporting Entrepreneurs in IT sector".
He stressed that the USAID supports Moldova's aspiration for European integration and economic development.
"It is important to create favorable conditions for developing the IT-sector in Moldova. We hope that the international experience will help developing technological entrepreneurship in Moldova", the expert said.
According to Minister of Information Technology and Communications Vasile Botnari, the Parliament adopted the law on industrial parks, according to which the IT parks residents benefit of the unique tax worth 7%, exemption from the VAT on equipment imports and restriction on state bodies' control
The conference was attended by experts from Denmark, Lithuania, Georgia and Chile, who presented successful practices of their countries, as well as factors, which made for successful results of programs on supporting IT entrepreneurship, financed by the Government.
The Startup Denmark Program Representative Casper Gregersen said that last year Denmark occupied the first place in the rating of countries, favorable for business development and was declared best in Europe for entrepreneurship.
One of projects developed by Denmark is the program Startup Denmark, which provides to gifted entrepreneurs the opportunity to move and develop their business in this country. The authorities provide the permit on work for two years with the possibility of extending it for three more years, he said.
Startup Lithuania expert Dovydas Varkulevicius said that Lithuania adopted a number of amendments for removing bureaucratic obstacles, faced by entrepreneurs, who want to start their own business in the IT sector.