​MOLDOVA AND CHINA TO START NEGOTIATIONS ON SIGNING FREE TRADE AGREEMENT
15 september, 2016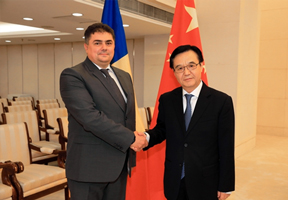 Moldovan Deputy Premier, Minister of Economy Octavian Calmic and Chinese Minister of Trade Gao Hucheng met in China, agreeing on starting negotiations on signing a free trade agreement between the two countries.
"The signing of such an agreement will contribute to development of trade-economic relations, will allow starting and implementing investments projects with participation of Moldovan and Chinese companies", the Economy Ministry's press release says.
Gao Hucheng stressed that the development of trade and economic relations with Moldova, which has an advantageous geographical position, is one of priorities for many Chinese companies, which are planning to extend their activities both in Moldova and in the European market.
"The signing of agreement will provide new opportunities not only for developing relations between the two countries, but also for launching successful bilateral projects. We are ready to support investment projects in energy, transport sector, other branches, as well as provide technical assistance in developing infrastructure of communication for the state and private sector in Moldova", the Chinese Trade Minister said.
According to the press release, last week Ministry of Economy Octavian Calmic started his working visit to the People's Republic of China, where he conducted a number of meetings with representatives of Chinese Government and the administration of Guizhou province. In China, the Deputy Premier participated in the 6th International Alcoholic Beverages Fair and in World Summit of Wine Producers, where he presented the country, its investment climate and opportunities, provided by it within the EU-Moldova Association Agreement.