IGOR CHAYKA APPOINTED AS BUSINESS AMBASSADOR TO MOLDOVA AND TRANSNISTRIA
09 octomber, 2017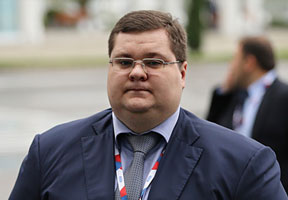 Member of the All-Russian public organization "Delovaya Rossiya" [Business Russia] General Council Igor Chayka was invested with powers of business ambassador to Moldova and the unrecognized Transnistrian Moldovan republic (PMR).

According to the organization website, Igor Chayka, who is son of Russian Prosecutor General, said that among the most important directions of his work if further development of trade turnover, as well as raising of trust between business people.

"We will continue interaction both in the B2G and in B2B formats. This is important both from the point of view of potential partners and within the framework of building long-term strategy of joint work. We already have accumulated potential of project activity, now the time has come to start its practical implementation", the business ambassador stressed.

The website says that in 2017, the Russia-Moldova business cooperation is registering an unprecedented rise.

"In March, with participation of Moldovan President Igor Dodon, "Business Russia" head Alexey Rapik, business union Co-Chairman Andrei Nazarov and other representatives of the "Business Russia", a massive business forum took place. Highest-level contacts continued in June within the response mission of Russian entrepreneurs to Moldova, as well as in September – to Transnistria under the chairmanship of Igor Chayka", the website says.

Infotag's dossier: Russia is Moldova's largest trade partner after Romania. Moldovan exports to Russia in January-August exceeded US$162.2 million – 11.6% more than over the equivalent period of 2016, while imports from Russia accounted for US$343.2 million (+6%).