UNGHENI-CHISINAU GAS PIPELINE TO BE COMMISSIONED BEFORE END OF 2018
13 octomber, 2017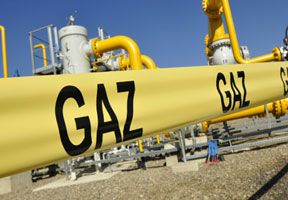 Romanian Minister of Economy Gheorghe Simon received his Moldovan counterpart Octavian Calmic in Bucharest on Thursday.

According to the Ministry of Economy, Simon said that the building the Ungheni-Chisinau gas pipeline is planned to be concluded by the end of 2018 and that the Romanian gas transporting operator "Transgas" will open its representation in Chisinau in the nearest time to operatively resolve all the issues that appear within the implementation of the project.

Octavian Calmic also expressed hope to finish the building by 2018. He agreed with the Romanian colleague to jointly address to European institutions with a request to raise the project financing by 10 million euros.

The sides spoke for implementation of the project on interconnecting the two countries' electricity systems, which will cost around 300 million euros, 40 million of which will come in the form of grant from the EU.

Gheorghe Simon promised Romania's continuous support to Moldova's European integration.

During the visit to Bucharest, Calmic participated in the meeting of the Moldova-Romania Inter-Governmental Commission for Trade and Economic Cooperation, which discussed the interaction in various fields, including industry, energy sector, agriculture, transport.

The agreement was achieved to start in 2018 the building of a water pipeline Iasi-Maranesti in Romania, which will also give access to potable water to 5 Moldovan villages.

On Friday, the Deputy Premier is participating in the forum "Mastery in Business", organized by the Romanian Chamber of Commerce and Industry in Bucharest. It is aimed at promoting Moldova's economic possibilities, as well as creation of favorable conditions for supporting potential investors to develop business in Transnistria.