MOLDOVAN ECONOMIC GROWTH IS DECELERATING – MINISTER CALMIC
27 octomber, 2017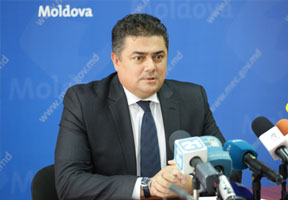 At the Thursday's press conference Deputy Premier, Minister of Economy and Infrastructure Octavian Calmic said that the Moldovan GDP growth will be lower than it was forecasted at the beginning of the year.

Asked about the expected growth of the country economy in the situation when the World Bank and the International Monetary Fund have lowered the targeted rates of the GDP growth, he said that the growth will be slightly lower against the 4Q2016.

"In 2017, the GDP will definitely demonstrate growth, but it is difficult now to talk about concrete figures without the data about the economy development over nine months. I think that the growth will be at the level of 3-4%. We forecasted a much higher volume of investments in economy, but their growth also proved to be slightly lower, accounting for 2.7% against the equivalent period of 2016", Calmic said, adding that in 2018 the rate of direct investments is targeted within 5% against 2017.

The minister pointed at the fact that the forecasts of developing the Moldovan economy in 2018 coincide with forecasts of international institutions, which also forecast GDP growth by 4% next year.

Infotag's dossier: Currently, the Economy Ministry targets GDP growth by 4.5%. in 1H2017, the economy registered growth of 2.8%.