JAPANESE COMPANY CONFIRMS INTEREST TO INVEST IN MOLDOVA
31 octomber, 2017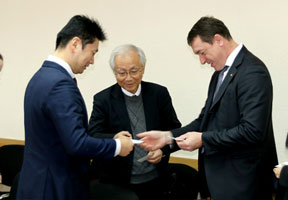 Director General of the Japanese company "Metal Products Inc." Susumu Watanabe met Moldovan Deputy Minister of Economy and Infrastructure Vitalie Iurcu on Monday and confirmed the company's interest in implementing investment projects in Moldova.

According to the Ministry, the company, specialized in metal construction producing, intends to launch production of agricultural machinery for implementing no-till technologies.

Susumu Watanabe said that in 2016, the company opened in Moldova a branch office under the name "Metal Products Europe", which started the work on project implementation.

Deputy Minister confirmed Moldova's interest in attracting investments, especially in such an important branch of economy as agriculture. He pointed at advantages residents of Moldovan Free Economic Zones may benefit from, reminding that such well-known Japanese producers as Sumitomo and Fujikura have already become residents.

As Infotag has already reported, Susumi Watanabe met Prime Minister Pavel Filip in Chisinau in late August 2016.

Japanese company Metal Products Inc. is specialized on designing and producing elements, used for modern building facades. Currently, this company has contract on building objects for Olympic Games that will take place in Tokyo in 2020.