ACTION PLAN ON EU-MOLDOVA ASSOCIATION AGREEMENT FULFILLED BY THREE-QUARTERS - FOREIGN MINISTRY
02 november, 2017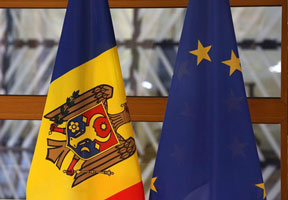 Deputy Minister of Foreign Affairs and European Integration Daniela Morari said that 73% of the 2017-2019 action plan on implementing the EU-RM Association Agreement have been fulfilled.

At the Wednesday's sitting of the parliamentary Standing Committee for Foreign Policy and European Integration, she said that the total list of measures on harmonizing the Moldovan legislation with European norms, stipulated in the Agreement, have been fulfilled by 34%.

She stressed that the percents should be regarded as indicators, but they cannot reflect the entire picture, as there are fields where the share of fulfillment is higher, but these were easier to be done than in other fields.

"Difficulties in implementing some measures are first of all connected with coordination, when many interested sides participate in the implementation. The work is being done slowly due to the need of seeking compromises between the interested sides. Also, difficulties appear due to lack of human and financial resources", she explained.

According to Deputy Minister, one of the most important achievements is that the share of Moldovan exports to the EU reached 64%. The same situation is in the Transnistrian region.

"Moldova has implemented EU standards in the field of personal data protection, due to the Agreement asbestos is not used in the republic anymore", she added.

Socialist MP Bogdan Tirdea said that it would be great to see real results of Agreement implementation.

"According to Transparency International, in terms of corruption Moldova fell to the 123rd place from the 103rd. The situation is similar in the field of free press: according to Freedom House, Moldova fell by almost 10 points. In democracy index the country got 4.92 points, which shows dictatorship in the country. Direct investments in Moldovan economy have seriously fallen", the MP said. At the meeting, it was announced that the Foreign Ministry will prepare infographic for assessment the results of the EU-Moldova Association Agreement implementation.