GOVERNMENT DECLINES INITIATIVE ON LOWERING RETIREMENT AGE
02 november, 2017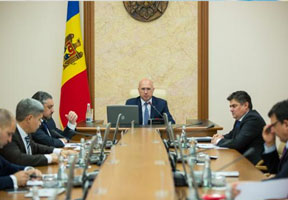 The Government has given a negative conclusion to the legislative initiative of Moldovan President Igor Dodon on lowering the pension age to 62 for men and 57 for women.

The issued decree says that at pension system reforming it was taken into account the social politics and the funds necessary for establishing conditions and the size of social insurance allowances. Given that the existing financial resources are directed to the already adopted liabilities, the draft cannot be supported.

Prime Minister Pavel Filip said that the proposed draft law is pure populism. "It is very easy to propose such ideas, knowing you do not bear any responsibility and do not have to seek financing", he said.

"I want to thank again all those, who worked on the pension reform, the results of which pensioners can feel each time we index or raise pensions", he said.

As Infotag has already reported, the initiative appeared after the Parliament has raised and equaled the retirement age for women and men. The standard pension age of 63 will be established for men starting from July 1, 2019, while for women - July 1, 2028. The reaching of this age will take place by means of annual raising of standard retirement age.