INVESTOR HAS TO FULFILL CONTEST CONDITIONS FOR PRIVATIZING VESMOLDTRANSGAZ – ECONOMY MINISTER
06 november, 2017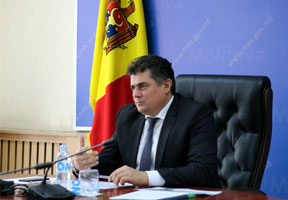 A principled condition Moldova is putting to potential investor, who plans to buy the VestMoldTransGaz company, is the fulfillment of all conditions of investment contest.

Deputy Premier, Minister of Economy and Infrastructure Octavian Calmic said in a live program "Replica" on the Prime TV channel on Sunday evening that these conditions are made of two important components.

"The first requirement is that potential investor has to pay 180 million lei in budget and invest 93 million lei in the company within 2 years, which are necessary to build Ungheni-Chisinau pipeline to deliver natural gas from Europe via the network in Moldova", the Minister said.

He said that so far it is too early to make specific and name the companies which will take part in the contest and will fight for this asset. Meanwhile, the Minister confirmed a high interest to the Moldovan company from the side of Romanian enterprise TransGaz, 58% of which belong to the Romanian Government.

As for the state readiness to privatize assets in Moldova's energy complex, the Minister said that currently, the work on merging two electricity distribution companies in the north of the republic is conducted – RED Nord and RED Nord Vest, whose assets will be de-nationalized soon.

According to the Minister, two companies from Romania show interest to this asset – Electrica and TransElectrica.

"After the RED Nord and RED Nord Vest merge into one company, we can conduct an investment contest already in 2018. As for the interest to this asset from the side of Romanian company, it has long been showing interest to two electricity distribution companies in the center and the south of Moldova, which belong to Gas Natural Fenosa. In terms of investment, assets of these enterprises look more attractive", he said.

The Minister said that Romanian investors regard as very important the project of building the Isaccea-Vulcanesti-Chisinau power line, the cost of which is assessed at approximately 275-300 million euros. The World Bank, the European Union, the European Bank for Reconstruction and Development and the European Investment Bank are ready to provide resources for implementing this project.