JOINT PROJECT WITH EU WILL STRENGTHEN MOLDOVAN BUSINESS ENVIRONMENT – DEPUTY PREMIER
07 november, 2017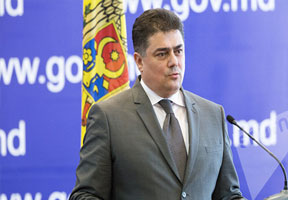 A new joint project with the EU "Improving Transparency and Cooperation within DCFTA Implementation" has been launched in Moldova on Tuesday.

At the conference, dedicated to this event Deputy Premier, Minister of Economy and Infrastructure Octavian Calmic said that the fulfillment of the Deep and Comprehensive Free Trade Agreement became the necessary impetus for developing Moldova's trade relations, as well as for conducting a voluminous package of domestic reforms.

According to him, despite Moldova's successes in the process of agreement implementation, there is a certain number of unresolved issues, including insufficient participation of civil and business circles in reform implementation.

"The new project is aimed at filling the informational vacuum between central authorities and the business environment. The financial support of the project from the side of the EU will account for 2 million euros, which will be directed to raising the transparency of business environment, facilitating the access to necessary information for business representatives. This will raise the interest of potential foreign investors to Moldova, as well as will strengthen cooperation between domestic entrepreneurs", the Deputy Premier said.

EU Trade Commissioner Cecilia Malmstrom said that the creation of comfortable conditions for business is necessary for economic development, but it is a long and difficult period.

"In Moldova, unfortunately, there are problems with access to necessary information, especially in small enterprises, which do not have financial resources for performing an efficient economic forecasting. This project is a part of EU support to Moldova on its way to DCFTA provisions fulfillment. The Moldovan business has a great development potential and the project implementation can help strengthening public-private partnership, as well as will considerably improve the quality of the produced goods and the provided services", she said.

The Commissioner said that the project, designed for two years, will be implemented in key directions of the Moldovan economy – agriculture and food industry, clothing and footwear production, as well as automobile spare parts, providing of business services and the IT sphere.