SOCIALISTS CHALLENGE ACTING CHISINAU GOVERNOR APPOINTMENT IN COURT
10 november, 2017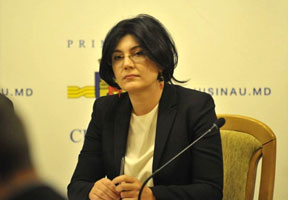 Socialist MP Vasile Bolea and Chairman of the PSRM faction in the Chisinau Municipal Council (CMC) Ion Ceban submitted a petition to the Constitutional Court with the demand to pronounce about the appointment of Silvia Radu as Acting city governor.

After coming out of the Court chancellery, Ceban said that Radu appointment is profitable both to Liberal and the Democratic parties.

"We demand from the CC a loud and clear response if an acting mayor [Nistor Grozavu] has the right to appoint another acting mayor", he said.

The head of the PSRM faction said that proposals on appointing acting mayor cannot come from the very acting mayor, but only from the governor, elected by general secret voting.

MP Bolea supposed that from the legal point of view, the decision of acting governor Grozavu to appoint another person instead of him is illegal.

"The law clearly stipulated that such decisions may be taken by the Municipal Council, but not by acting mayor without CMC consent. We demand the Constitutional Court to revise the article 17 of the Law on Chisinau municipality status, which was adopted in summer 2016", he said.

Ceban said that both MPs and councilors demand that the law to be interpreted in accordance to someone's wishes.

Infotag's dossier: On November 6, former Director General of the Gas Natural Fenosa company Silvia Radu was appointed as acting Chisinau governor. The order was signed by Deputy Mayor Nistor Grozavu, who appointed her as deputy mayor and delegated to her the powers of mayor. He said that as acting mayor, he was forced to appoint ned deputy governors to unblock the primaria work. Thus, new deputy mayors are Silvia Radu and Ruslan Codreanu of the European People's Party of Moldova.