MOLDOVA SUCCESSFULLY EXPORTING AGRICULTURAL GOODS TO 80 COUNTRIES - ANSA DIRECTOR
20 february, 2018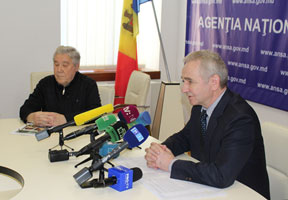 In 2017 exported agricultural goods to over 80 countries of the world, said National Food Safety Agency Gheorghe Gaberi at the Monday's press conference.

According to him, last year was successful for Moldovan agriculture - the country registered both growth of harvest and of exports of agricultural products, as well as sales markets diversification

"Moldova started exporting inshell walnut, harvested from special plantations in accordance with EU requirements. In total, 1.8 thousand tons of inshell walnut were harvested", the director said.

He said that for the first time the export of berries has grown. Last year, a modern factory on berry frosting was opened in Moldova, which will allow this year to raise the exports and diversify the assortment of berries, highly demanded on the European market. Also, the exports of prunes grew to 9 thousand tons from 6 thousand tons.

Gaberi said that exports of apples from Moldova grew 9% and the lion's share is directed to Russia, though apple supplies to EU countries for the first time reached figures of thousands of tons. The exports of plums accounted for 52 thousand tons, 18 thousand of which accounted for the EU, though the quota on plums is of only 10 thousand tons.

"The exports of grapes accounted for 80 thousand tons, around 20 thousand tons of which accounted for EU markets, which is twice higher than Moldova's quota. Due to this, the Ministry of Economy and Infrastructure addressed a request to raise the quota", Gaberi said.

According to him, the agency is doing its best in order that Moldovan producers to get access to other markets, in particular India, which is able to consume the entire volume of apples, cultivated in Moldova.