INTERNATIONAL EXPERTS TO HELP MOLDOVA RAISE PUBLIC COMPANY PROFITABILITY
11 september, 2018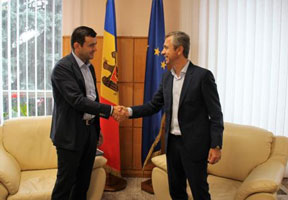 Moldovan Minister of Economy and Infrastructure Chiril Gaburici met with experts of the international consulting and audit companies PricewaterhouseCoopers (PwC) in Chisinau on Monday.

According to the Ministry, the main topic of discussion was the experts' intention to help Moldova in raising the profitability of government institutions and in attracting large foreign IT companies to the country.

Chiril Gaburici said that the Government considers several opportunities for raising the profitability of state enterprises: concession, partnership and privatization.

"State enterprises should obligatorily be profitable and in this relation we have to resolve the problem of administration efficiency. We hope for PwC support and recommendations for raising enterprise management efficiency, as well as for stimulating the rational de-nationalization and long-term positive effects, as you have experience in this sphere", the minister said.

Representatives of the PwC told about their experience in privatizing several Romanian companies in energy sector, which currently are profitable. They also highly appreciated the Moldovan Government's efforts on improving the business climate.

"I was pleasantly surprised with the fact that Moldova managed to adopt a number of tax measures for contributing to the IT industry. This is very good and the results will become visible with time. Though the tax burden is falling, budget revenues will grow, as many will start working within legal framework. You have worked very well, when presented the general tax for IT parks (7%). I am sure that Moldova, which has human resources in IT-sector, will become a new model of success in this field", said PwC Romania Manager Ionut Simion.

The sides agreed to hold research of the impact of innovations in tax legislation on the IT sector. After that, PwC experts will present conclusions and recommendations for maximum implementation of potential of this sector in Moldova.

Infotag's dossier: The PricewaterhouseCoopers is an international network of companies, which propose professional services in the field of consulting and audit. It was founded in 1849 and is headquartered in London.