COUNTRY'S LARGEST ASPHALT-CONCRETE PLANT LAUNCHED IN CIMISLIA
05 june, 2019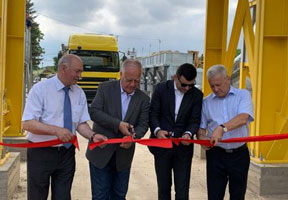 IrindaPrim company opened the Moldova's largest plant on producing asphalt-concrete mixtures Marini «Be Tower 2500» in Cimislia. The new enterprise meets all the European requirements.

According to the Ministry of Economy and Infrastructure, Minister Gaburici attended the plant opening on Tuesday. He said that the role of the new complex cannot be overstated in conditions when it is planned to rehabilitate 2.6 thousand km of roads within the program "Good Roads for Moldova-2" in 2019.

"Companies who won the tenders for building roads, especially in the south of Moldova, will have necessary materials in sufficient volumes and of a good quality", he said.

The IrindaPrim already has one asphalt plant in Comrat. In 2018, the enterprise produced toughly 110 thousand tons of asphalt mixture. The company also has a testing laboratory for building materials, modern machinery for road works, over 50 specialized vehicles, including dump trucks, graders, loaders, road rollers, asphalt finishers. The staff is made of 170 people. Last year, the company turnover exceeded 140.7 million lei.