NEGOTIATIONS WITH GAZPROM MAY START SOON – PRESIDENT
06 june, 2019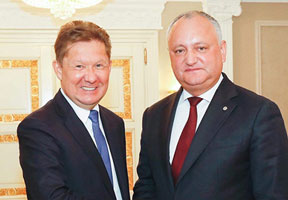 President Igor Dodon met with Chairman of the Gazprom Board Alexey Miller on the sidelines of the Saint Petersburg International Economic Forum. He wrote on his Facebook page that at the meeting it was agreed to start negotiations on signing a new contract on natural gas supplying to Moldova.

"We discussed the process and perspectives of cooperation in energy sector. In particular, we discussed the issues, connected with the supplying of Russian gas to Moldova and its transit through the republic's territory. Also, we came to an agreement on signing new contracts on natural gas supplying and transit starting from January 1, 2020", Dodon wrote.

He also said that in 2018 the Gazprom supplied to Moldova 2.9 billion cubic meters of gas, which is 8.4% more than in 2017 (2.7 billion cubic meters). Contracts between the Gazprom and the Moldovagaz on gas supplying to Moldovan consumers and the gas transit through the territory of the republic expire at the end of 2019.

The video and photo, placed in social networks, say that the meeting was held "on foot" before the beginning of the Forum and the discussion was short. The President did not specify who will be holding negotiations. At the beginning of the week he lamented that Moldova has no Government, the agreement on gas supplying expires at the end of the year, but no one is thinking about a new contract.

On the sidelines of the St. Petersburg Forum Igor Dodon also met with member of the "Business Russia" Association General Council, member of the Moldovan-Russian Economic Council Igor Chayka. Dodon wrote that they discussed the current state of things and perspectives of developing Moldova-Russia trade and economic relations, as well as conditions for attracting investors from the Russian Federation and guaranteeing their investing in Moldova.

"Besides, I expressed sincere thanks to Mr. Chayka for great help in releasing Moldovan pilots from the Taliban captivity at the beginning of the year. This humanitarian gesture demonstrates Russian Federation's great respect for Moldova and its citizens. Another confirmation to this was that Mr. Chayka invited both rescued pilots with their families to rest in Sochi this summer completely at the expense of the Russian side", Dodon wrote.