PRESIDENT DODON HOLDS MOLDOVAN-RUSSIAN ECONOMIC COUNCIL SITTING
07 june, 2019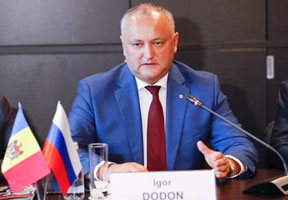 President Igor Dodon conducted the sitting of the Moldovan-Russian Economic Council within the Saint Petersburg International Economic Forum on Thursday. The sitting was attended by Russian Deputy Prime Minister Dmitry Kozak, the President Vladimir Putin's Special Representative for Trade and Economic Relations with Moldova.

President wrote on his Facebook page that within the framework of the sitting, the stakeholders concluded a stable growth of trade turnover between the countries, pointed at mutual interest of Moldovan and Russian economic agents for deepening profitable partnership.

The president's post says that one of central topics of discussion at the sitting was the extension of trade and economic cooperation between Moldova and regions of Russia.

"In this context, meeting participants welcomed the concluding of corresponding agreements at the level of regions", the President wrote.

Dodon informed the sitting participants about the events in Moldova, as a result of which a parliamentary majority and a new government may be formed on the basis of the principle of balanced external policy.

"I assured Russian investors that this will become a reliable guarantee of security of the money they invested", Dodon wrote, informing that he invited Russian businesses to participate in the 2nd Moldovan-Russian Economic Forum in Chisinau on September 20-21.