​DA LEADER PROMISES TO PUBLISH SECOND KROLL REPORT
11 june, 2019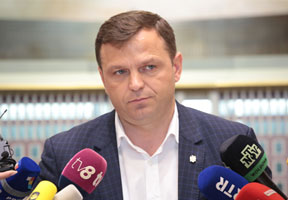 Chairman of the "Demnitate si Adevar" [DA, "Dignity and Justice"] Party Andrei Nastase promised to publish the second report of the Kroll detective agency on investigating the stealing of US$1 billion from the Moldovan banking system.
After the Monday's Parliament sitting, he said that he had always stood for the report publication, as people should know the names of the "heroes" – thieves and beneficiaries of the unprecedented fraud.

According to him, it is necessary to establish legislative restrictions and the form, in which the report may be published, in order that all Moldovan citizens to have the possibility to read it, and at the same time to avoid the creation of obstacles for the investigation.

"However, it seems to me that all these talks about the involvement in the investigation are just an excuse for not publishing this document", said the MP, appointed as Minister of the Interior on Monday.

He said that the authorities will address for help to external partners, who back in 2016 expressed their readiness to provide support in investigation and returning of the stolen billions.