​UKRAINE OFFERS 'EUROPEAN' GAS TO MOLDOVA
17 june, 2019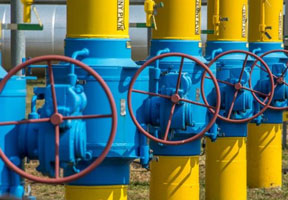 The UkrTransGaz company that runs the Russian natural gas transit via the Ukrainian territory, has proposed to Moldova to organize the importation of natural gas from European countries by using the Ukrainian gas transportation system (GTS) in conditions when the Russian gas transit via the system may be stopped from January 1, 2020.
The Ukrainian company explained on its website that this proposal has been put forward due to a delay taking place in the construction of the Romania-Moldova inter-connectors (the Ungheni-Chisinau gas pipeline), which factor "is placing Moldova into dependence on next ordinary negotiations with Gazprom [Moldova's contract with which is expiring on the midnight of December 31, 2019/January 1, 2020.

"The using of the possibilities of the Ukrainian gas transportation system should permit to minimize the potential risks related to a possible interruption of the natural gas transit from Russia, and thus to guarantee the security of gas supplying to Moldovan consumers", wrote UkrTransGaz.

According to it, the Ukrainian gas transportation system "ensures a flexible and reliable transportation of considerable gas volumes to Europe for competitive prices". Besides this, the GTS "ensures Ukraine's domestic gas needs, too, without Gazprom's participation – by importing the fuel from European Union countries".

"With the help of the GTS, Moldovan gas importing companies will be able to avail themselves of an analogous approach, which should enable Moldova to independently import natural gas from the European Union in case of need", UkrTransGaz wrote and offered the Moldovan side to create its own gas reserve by using Ukrainian underground reservoirs to thus ensure a failure-free supplying of gas to Moldovan consumers in the winter of 2019/2020.

The aggregate technical capacity of Moldova-Ukraine contact points permits to pump up to 15 million cubic meters of fuel per day, which fully covers the republic's gas needs.