​PREMIER ASKS PARLIAMENT TO PROHIBIT DUTY-FREE SYSTEM IN MOLDOVA
20 june, 2019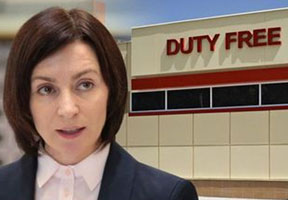 Prime Minister Maia Sandu regards as necessary to prohibit the activity of the chain of duty-free shops at Moldovan borders. She wrote about this in social networks.
"I asked my colleagues in the Parliament to urgently develop and register a draft law which would prohibit the duty-free gas stations, as well as duty-free shops, bars and restaurants at the entrance to Moldova and the Transnistrian region. Besides the fact that the above mentioned legal provisions do not exist in any country of the world, the national budget is suffering losses worth hundreds of millions of lei due to these laws, while their beneficiary is a toxic personage, involved in doubtful business, including the stealing of the billion", the premier wrote.

She called on the Parliament to urgently make corresponding amendments to the legislation.

"The Government will not allow promoting such initiatives in future, as well as will achieve the canceling of all the equivalent decisions, adopted by the oligarchic regime before June 8", Sandu said.

According to the Mold-Street portal, Ilan Shor who is connected with Dufremol company (one of Moldova's largest duty-free trade operators), held by Ilan Shor's mother-in-law, decided to sell the business in the republic after political events in early June. In this way, the company now belongs to three owners – Alexandru Vilcu (30%), Victor Iacovlev from Ukraine (30%) and Andrei Minaev from Germany (40%). The Dufremol company, whose real beneficiary was Ilan Shor, has 12 duty-free shops in Chisinau airport and on borders with Romania and Ukraine.