CHISINAU CENTRAL MARKET EX-DIRECTOR DEMANDS ACTING MAYOR RESIGNATION
25 june, 2019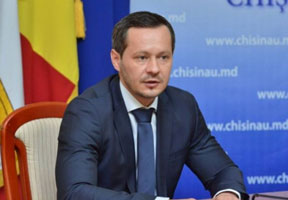 Ex-Director of the Chisinau Central Municipal Market Lilia Bustiuc regards as illegal her dismissal from the post and demands to dismiss city Acting Mayor Ruslan Codreanu who ordered this.

Bustiuc said at the Tuesday's press conference that most problems of the market are connected with the last administration, headed by Ion Stratulat since 2005.

"Back then, the Ministry of Finance fined the Market 85 million lei after an inspection. Due to this, the enterprise transformed from a profitable one into the one accumulating debts and risking bankruptcy", she said.

Bustiuc said that during her stay in the post of director (April-June 2019), she identified a lot of violations, connected with the non-compliance with trade rules, as well as with the subletting, the market concentration in hands of a single person.

"Nevertheless, due to urgent measures and crisis management, the situation was improved. If in early 2019 the enterprise debt was 60 million lei, now it fell to 40 million", she said.

Bustiuc said that she many times informed Codreanu about the critical situation in the market and the need of intervention, but never received a response.

"As a result, when problems at the enterprise became so big they could not be hidden anymore, Codreanu decided to dismiss me, as he did not need extra noise. In this connection, I address to the Chisinau Municipal Council (CMC), which is the enterprise owner, with a demand to vote for dismissing Codreanu", Bustiuc said.

She also said that she directed an address to Codreanu with a demand to revise his decision and allow her to stay in the post of director in the current crisis period. Bustiuc warned new Market head Viorel Braga that his reputation may also suffer due to the appointment.

Infotag's dossier: Lilia Bustiuc was dismissed by Acting Mayor Ruslan Codreanu on June 21 after 2-month holding of the post of Market Director. Codreanu explained this by growth of illegal taxation from business people which accounted for 7 to 30 thousand euros for extending the authorization. However, Bustiuc maintains that economic agents' complaints are connected with the previous market administration, while the authorizations are issued and extended not by the market leadership, but by the Department for Trade.